DRPU Barcode Software for Inventory Control and Retail Business
Inventory Control and Retail Business Barcode Label Maker Software helps user to generate barcode labels, coupons, tags and stickers useful in inventory and retail industry. Barcode inventory management software generates professional barcode labels useful for small and large retail business organizations using different designing objects including Pencil, Text, Arc, Ellipse, Picture and Line etc.
Software provides solution for creating modified inventory and retail barcode labels, tags and stickers of different fonts, sizes and shapes by advanced barcode designing settings.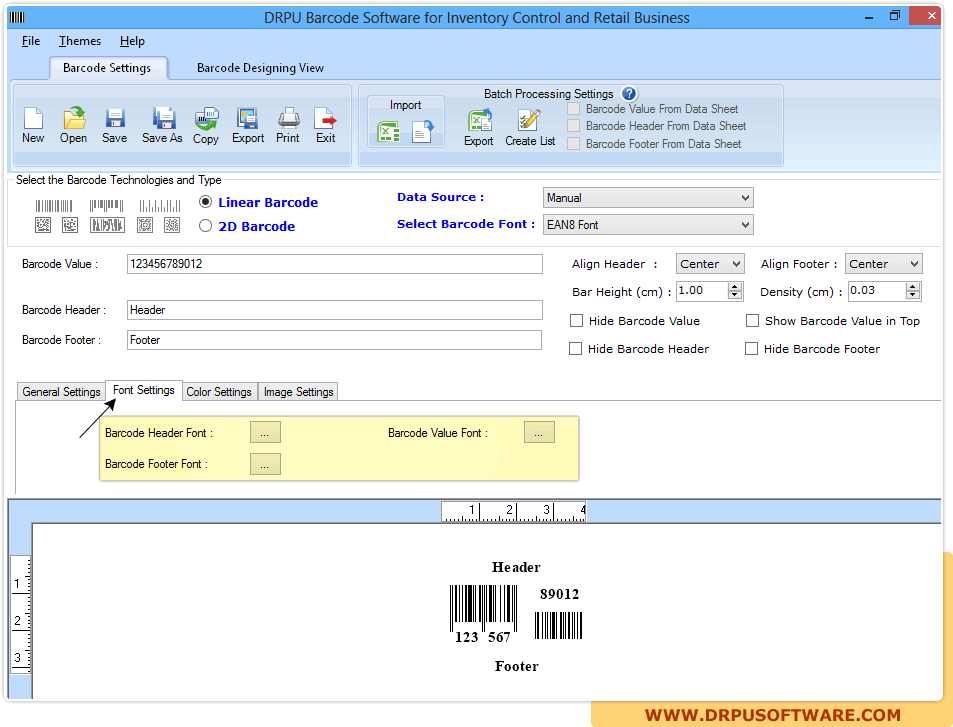 Supported Barcode Fonts
Linear Barcode Fonts
Codabar, Code 128, Code 128 SET A, Code 128 SET B, Code 128 SET C, Code 39, Code39 Full ASCII, EAN13, EAN8, Industrial 2 of 5, Interleaved 2 of 5, LOGMARS, MSI Plessey, Telepen, UCC/EAN-128, UPCA, UPCE
2D Barcode Fonts
Aztec, Databar, Databar Code 128, Databar Code 128 Set A, Databar Code 128 Set B, Databar Code 128 Set C, Databar Expanded, Databar Limited, Databar Stacked, Databar Stacked Omni, Databar Truncated, Databar EAN 13, Databar EAN 8, Databar UPCA, Databar UPCE, DataMatrix, MaxiCode, PDF417, QR Code
Software features
Software generates printable and scanable inventory and retail barcode labels, tags and stickers.
Bulk number of retail and inventory barcode tags and labels can be generated using constant, sequential and random barcode series generating techniques.
Software has ability to print several copies of same barcode labels on the single paper to fulfill growing business needs.
Provide option to save created barcode images in JPEG, GIF, TIFF, EXIF, Bitmap and other file format.
Software design customized retail and inventory barcode labels using linear and 2D barcode font standards.