Keylogger Software is developed to constantly track the keyboard activities of external users in your absence. Surveillance utility records keystroke details like composed emails, online chat conversations, typed username, passwords, website URLs, symbols etc. All the recorded keystroke activities are saved in a hidden log file format with option to mail log details at user specified email account.
DRPU Keylogger program assists Company managers to keep a close watch on the PC usage of employees during office hours. Software helps to control the non-productive computer activities including online chatting, shopping or visiting social networking sites etc.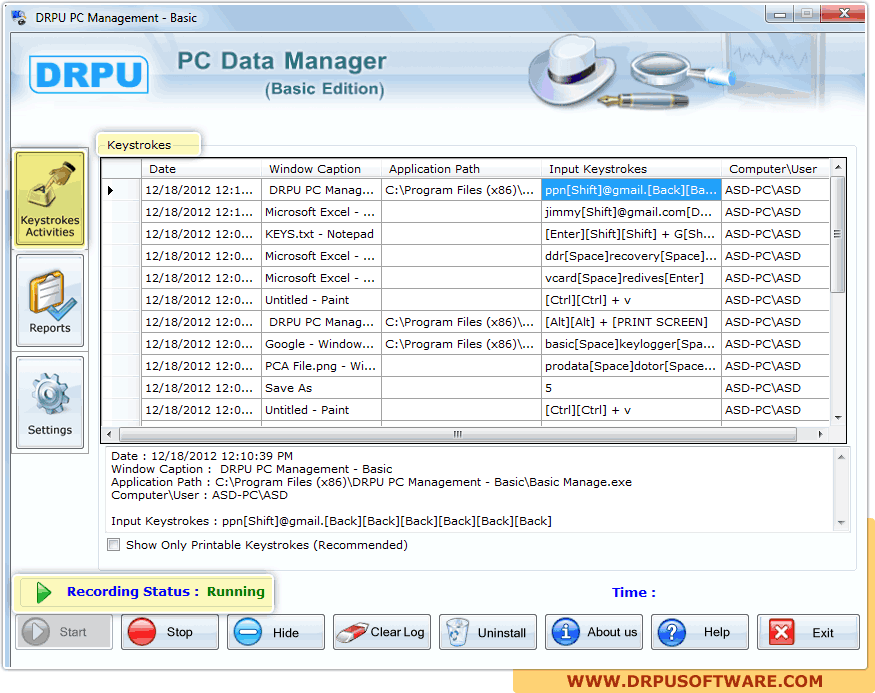 Keylogger software records:
Typed text and documents, User logins and passwords
Composed and send emails, Typed website urls and visited web pages
Typed online chat sessions and more.
Keylogger Software Features:
Monitors Keystroke typed: Software monitors every keystroke entry made from your system keyboard.
Runs in stealth mode: Software runs in stealth mode and remains undetectable in Add/Remove list, Program folders and System startup with no shortcut icon on Desktop.
Access hidden software: User can easily access the software by enabling Hot keys or Run command settings.
Saves log details: Software saves log details in Text or Html file formats.
Emailing: Software provides option to mail log records at user-defined email ID.
Why DRPU Keylogger?
User-friendly GUI: Software is professional yet simple to use with user-friendly GUI interface.
Do-it-yourself feature: Do-it-yourself feature and no technical skills needed to operate the software.