Advanced Keylogger Software with enhanced features and functionalities, monitors overall computer activities of any PC user. Software records active and inactive Windows application executed on PC Desktop including clipboard entries, user logins, passwords, keystrokes etc and periodically captures windows screenshots.
Software automatically prepares log report of entire PC usage and even provides option to send log details at user specified email address. Password protected PC monitoring software monitors entire computer functioning of external user and tracks online/offline programs running on your system. Software records and logs everything your employees do on Company PC including keystrokes typed, website visited, online chats, employee emails etc.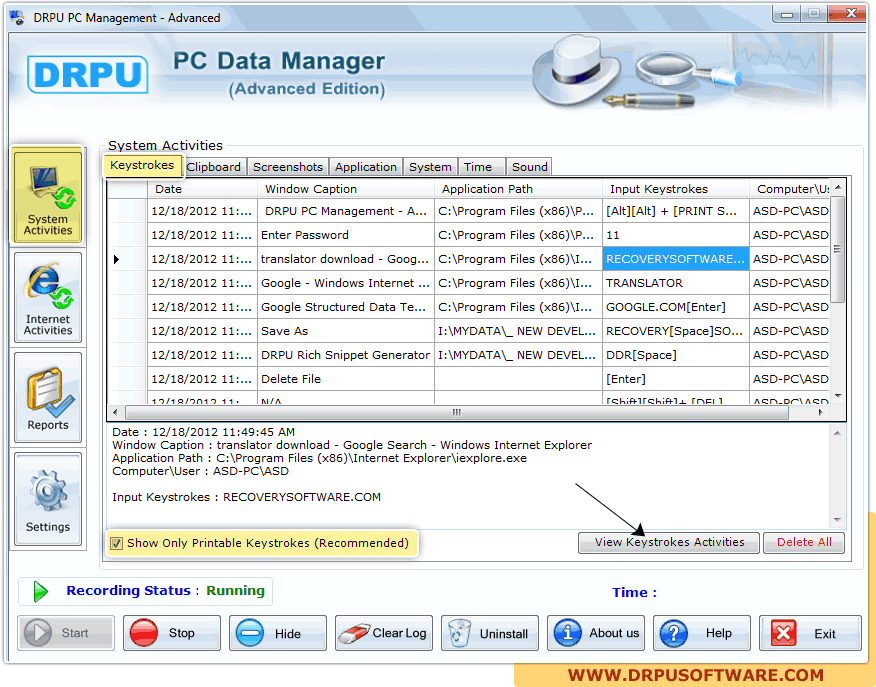 Advanced Keylogger Software Records:
Online voice chat conversations, Instant messages
Clipboard entries, captures Windows screenshots
Internet History (Cookies, Temp files etc)
Websites visited, Composed and send emails
System login sessions, Keystrokes (username, passwords, text contents etc)
Changes made in System Date and Time
Sound clips and more...
Advanced Keylogger Software Features:
Monitors Computer Activities: Software monitors overall system activities of any user working on your PC or Laptops.
Hidden Monitoring: Software provides option to run in hidden mode and remains invisible from entire system including Add/Remove list, System startup and even from installation files and folders.
Hot keys settings: Hot keys and Run command settings helps to access the software running in stealth mode.
Generate Log Report: Software automatically generates activity log report in Text or Html file formats and saves details at user defined location.
Deliver Log Records: Utility provides option to deliver log records at user specified email address or upload log files using FTP server settings.
Why DRPU Advanced Keylogger?
GUI interface: Software GUI interfaces helps to easily interact and operate the program.
Easy to operate: Software is easy to operate without requiring expert guidance.
Windows compatible: Software is compatible with major Microsoft Windows OS editions.