DRPU Mac Bulk SMS - Professional
Mac bulk sms software – professional enables users to send bulk of text messages to individual or list of phone numbers via using major GSM or Android technology based mobile phone devices connected with Mac OS X installed machines. Software helps you to stay connected with near and dear ones by sending messages without internet connection.
Professional Mac bulk sms software is developed for customizing and controlling the load of SMS broadcasting by using Delayed delivery option. Mac bulk sms software for professional edition is able to save sent messages in text (txt) or in HTML (html) file format for future reference.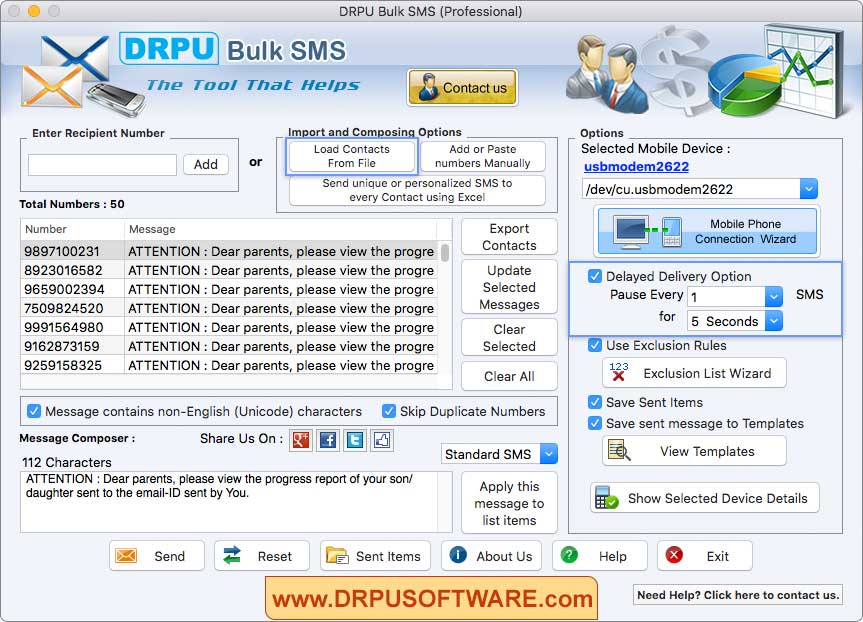 Key Features
Compatible with all latest technology of Android and GSM mobile phone.
Software successfully delivers notifications as well as standard messages over national, international mobile networks from your GSM or Android mobile connected with Mac machine.
User can send bulk messages via connecting with multiple GSM technology based mobile phones.
Exclusion list wizard option facilitates to manage the list of contact numbers for sending text messages.
Easily export sent items and also save sent messages in text or in html file format for future reference.